speaking up 2016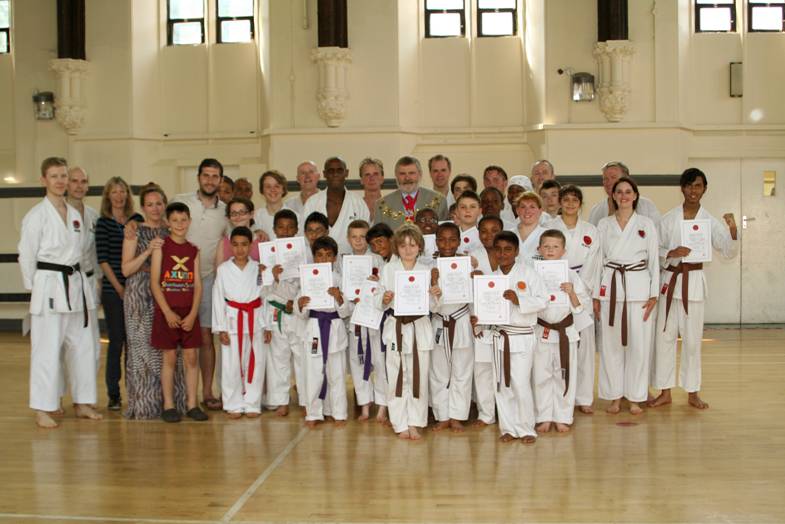 LSKC sponsors Deaf-SELF
Lewisham Shotokan Karate Centre has raised over £1000 at a charity training event in aid of local Deaf-Self children's charity. On Sunday 7 July, more than 30 students from Lewisham Shotokan Karate Centre (LSKC) took part in a 2 hour training session to raise money for local Greenwich-based charity, Deaf-Self. Deaf-Self is a play scheme for deaf children aged 6-11 and youths aged 12-16 that takes place every school holiday. The training session raised over £1000 for Deaf-Self, which will go towards paying for fun activities and outings for deaf children to meet other children who are deaf, helping to increase confidence and reduce feelings of isolation.
The training session was taken by Sensei Roy Tomlin, 6th Dan JKA, who took students through a number of drills – including blocks, kicks and punches – despite the summer heat as temperatures hit 28° Celsius. The students were supported during the charity event by parents, brothers and sisters, representatives of Deaf-Self as well as the Mayor of Lewisham, Sir Steve Bullock who made a short presentation of certificates at the end of the training session.

Sensei Roy said: " I'm immensely proud and also privileged that we've been able to raise so much money for such a deserving local cause. The summer heat made the training session extra difficult today – I'm very grateful to everyone who has participated today as well as the support from the parents."

Lewisham Shotokan Karate Centre (LSKC) this year is celebrating its 30 year anniversary since its founding in 1983 in Lewisham by Sensei Roy. Since 1983 Sensei Roy, born and brought up in the borough of Lewisham, has taught thousands of Lewisham residents young and old bringing over 100 people to black belt standard – the benchmark for karate participants all over the world.


Contact Sensei Roy Tomlin for further details by clicking here.