Beginners Learning Karate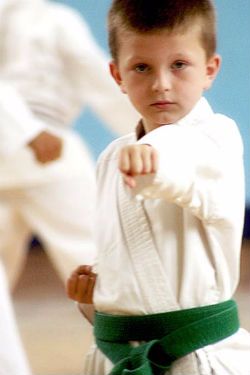 Beginning at LSKC...
Whatever your age, beginners are always welcome at our club. We offer a friendly and supportive atmosphere to newcomers, and this especially applies in the case of children. At the LSKC we are committed to all our students and to their personal advancement through the practice of the Japanese martial art of Shotokan Karate. Click here for timings of classes for kids and adults. These classes normally last for one month. Afterwards, a beginner will move into the regular LSKC club training schedules as a 'white belt'. Up-to-date training schedules for LSKC members can be viewed by clicking here.Training sessions take place in separate classes: Graduate, Intermediate and Advanced. We do this to ensure that students are never put in a position where they feel 'out of their depth'. This applies to both to the Children and Adult sections of the club. In our Junior section, we will be happy to accept students for training from the age of five years old. We take special care to ensure that all our younger members feel safe and secure and that their experience of Shotokan karate is both an enjoyable and a rewarding one. All instructors & coaches teaching at LSKC clubs have to obtain Enhanced Certification (ECRB) from the Criminal Records Bureau. The CRB conducts an in-depth search into the background of any applicants. For further information about ECRB checks click here. For further advice, more information or if you have any questions then please just click here to send an e-mail. We'll get back to you as soon as possible.Thanks for your interest in our club and its activities. We do hope to see you soon.